9-18 May 2023 and 20-29 May 2023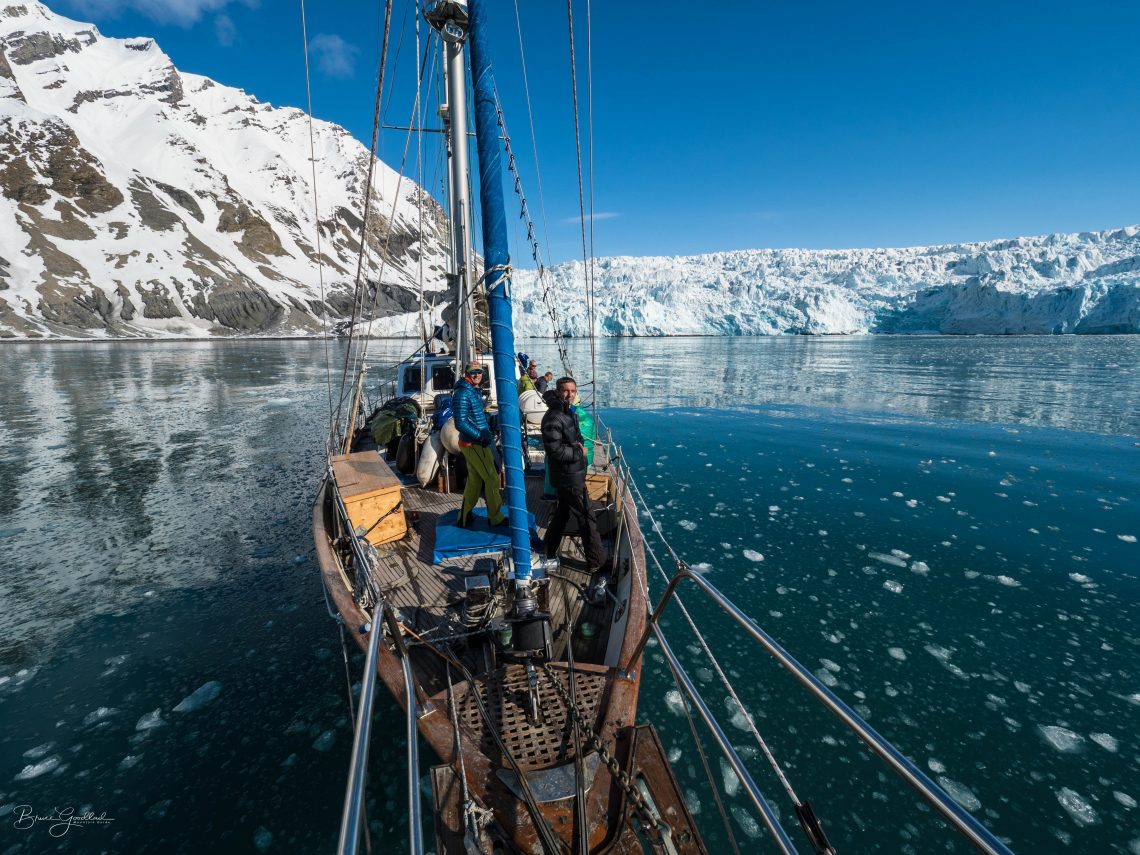 Trip of a lifetime is an overused phrase until you have visited Svalbard on a ski and sail expedition. Svalbard is unique there is nowhere else like it, the closest comparison I can find is Antarctica but with a 3-hour plane flight from Oslo instead of 4 days on a yacht from South America. Skiing in the world's most northerly mountains at 78 North.
There is nowhere else you can combine a ski trip with such incredible landscape and wildlife, when you land in Svalbard you enter the world of Isbjorn – the Polar Bear everything in Svalbard revolves about skiing and experiencing this incredible mammal, but not getting to close.
On previous trips we have seen Polar Bear, Walrus, Beluga, Minke and Humpback Wales.
The plan is simple, fly to Longyearbyen the capital of Svalbard spent a night there before joining our boat the Duen III a 23m ketch rigged yacht that will be our home and mobile mountain refuge for the next week. The boat is comfortable with showers and even a hot tub; you can check the boat out here: https://duenexperience.com/en/#
This 10-day trip is designed to give us the opportunity to explore the wild remote North West coast of the Svalbard archipelago, this will include the opportunity to visit Ny-Alesund the most northerly settlement in the world, we may even make it to 80 degrees north.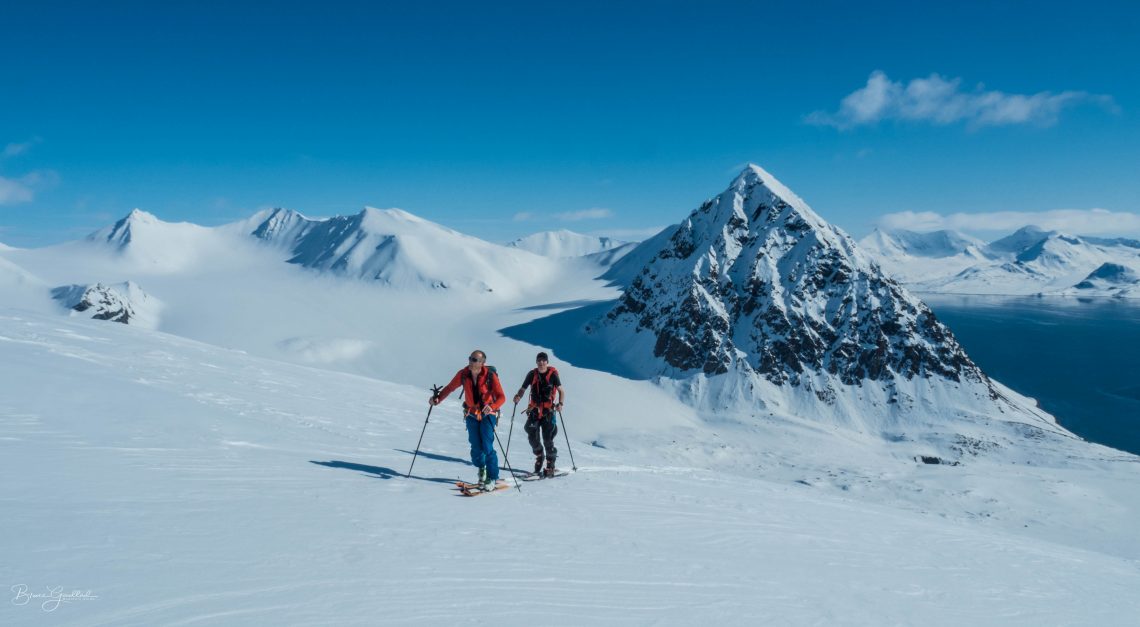 The advantage of being based on a yacht in Svalbard is that you have to take far less Polar Bear precautions than if we were based on the land. Duen III is a 23m ketch rigged yacht ideally suited to operating at high latitudes. There is space for 8 skiers, two guides and the skipper and crew. Experienced skipper and owner Oyvind will make sure we have a safe and enjoyable time aboard and I am assured that the catering is of high standards. Duen III has a powerful water maker so we should be able to enjoy hot water for occasional showers.
One of the magical things about skiing in Svalbard is the constant proximity of glaciers, everywhere you look they are calving into the sea. There are few things more magical than skiing down from a great summit above a glacial snout that drops into the ocean with our boat anchored in the bay below.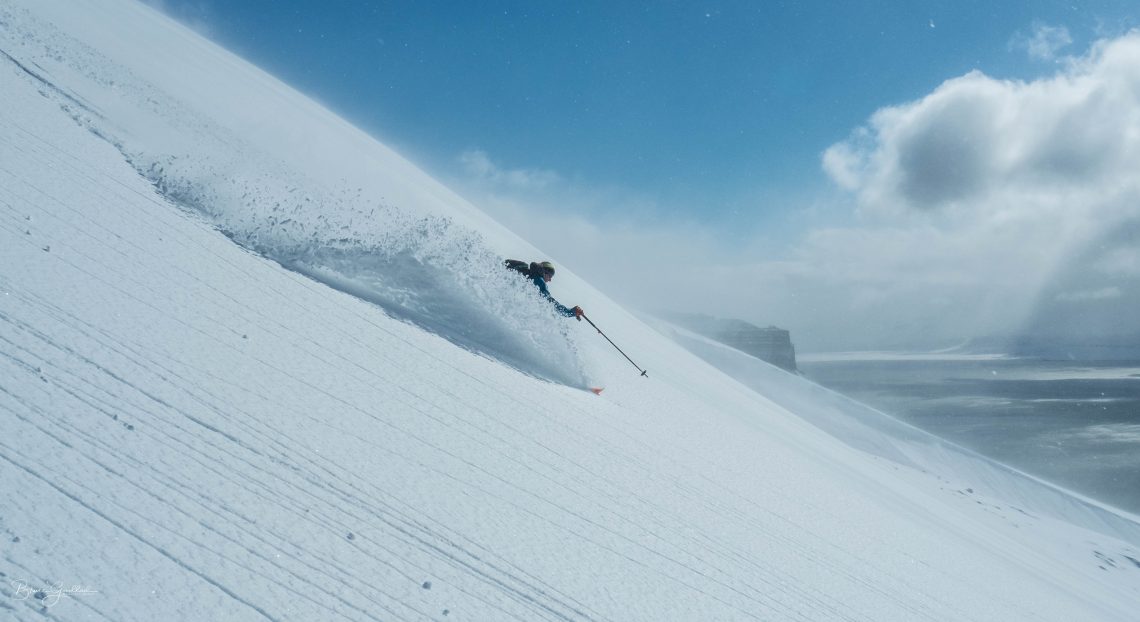 What to expect:
The area we shall visit is all on the 1:250 000 NW Svalbard map  but to get a feel for where we're going the best thing is to spend some time on the amazing Topo Nord website. Zoom in on the map, look at the 3D feature and satellite imagery. You will need the usual ski mountaineering kit for day touring. Therefore, although the terrain is glaciated your pack should not be too heavy. We shall be returning to Duen III at the end of each day's skiing. For all but perhaps two nights we will be anchored in beautiful bays and we should sleep well. Sailing through the night on watches is fun and would enable us to see and experience more of the island. We definitely want to reach the far north west of Spitsbergen if we can.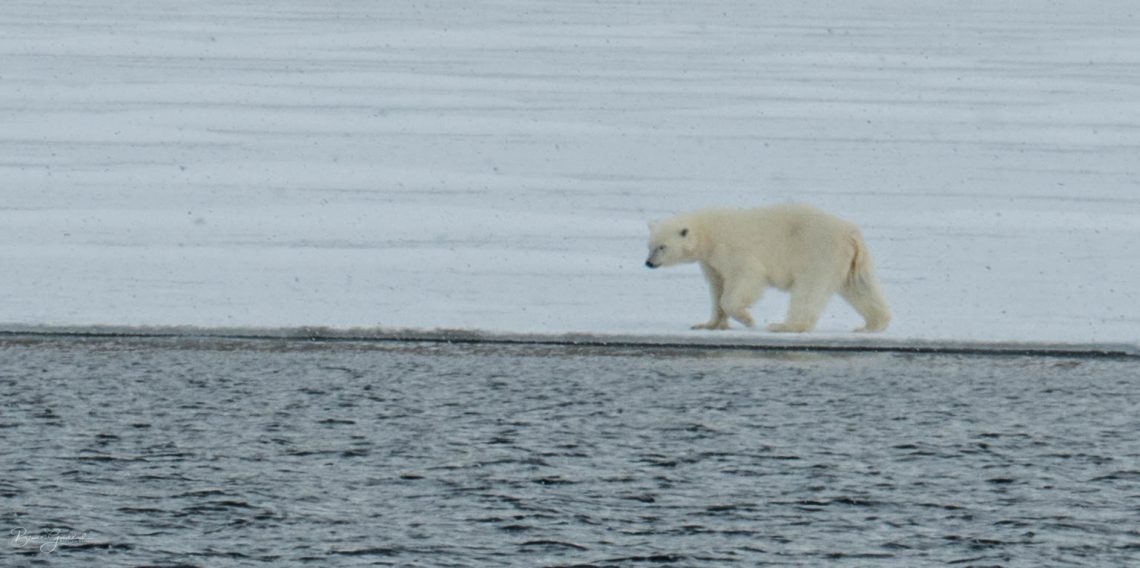 Programme
Day 1 – Arrive Longyearbyen. Board Duen III, store kit and settle in. We set sail when we are ready and when the weather permits.
Day 2-9 Ski and sail moving from place to place exploring this incredible landscape arriving back in Longyearbyen in time for an evening meal ashore.
Day 10 – Depart the Duen III about 1000 with the flight schedule there is usually time to visit Longyearbyen in the morning before a short taxi ride to the airport
The logistics for a trip like this are surprisingly simple given the remoteness. All flights require either a night in Oslo or Tromso on the way North but you can usually make it home in a day on the way south. This will depend on the flight schedule, we would suggest trying to avoid tight flight connections in both directions as lost luggage is almost impossible to deal with in Longyearbyen. There are good outdoor shops to buy clothing but ski rental is extremely difficult due to a very limited range and stock, boot rental is not available. We advise guests to make sure they have eyes on or have physical possession of there kit at every possibility. At least if it goes missing then you know where it went. e.g if you are overnighting in Oslo its worth collecting your baggage then rechecking the following morning.
It is worth considering arriving a day early to reduce the chance of this happening.
Charter of Duen III including all associated expenses such as harbour fees and shore permits
All food during our days onboard
Rifles and flares in case of polar bear encounters
Guides fees and expenses
Exclusions
Flight to/from Longyearbyen
Accommodation in Longyearbyen (We can stay on the boat during the entire 10 day trip (9 nights on the boat) but should you wish to arrive a day early or extend your stay there are many great options).
Any meals ashore in Longyearbyen
Any other personal expenditure such as insurance and alcoholic beverages.
Airport transfer in Longyearbyen.
Travel
Please get in touch about flight before booking.
Flights to Longyearbyen are via Oslo with http://www.flysas.com/ or http://www.norwegian.com/en/ .
Please get in touch if you have any questions.