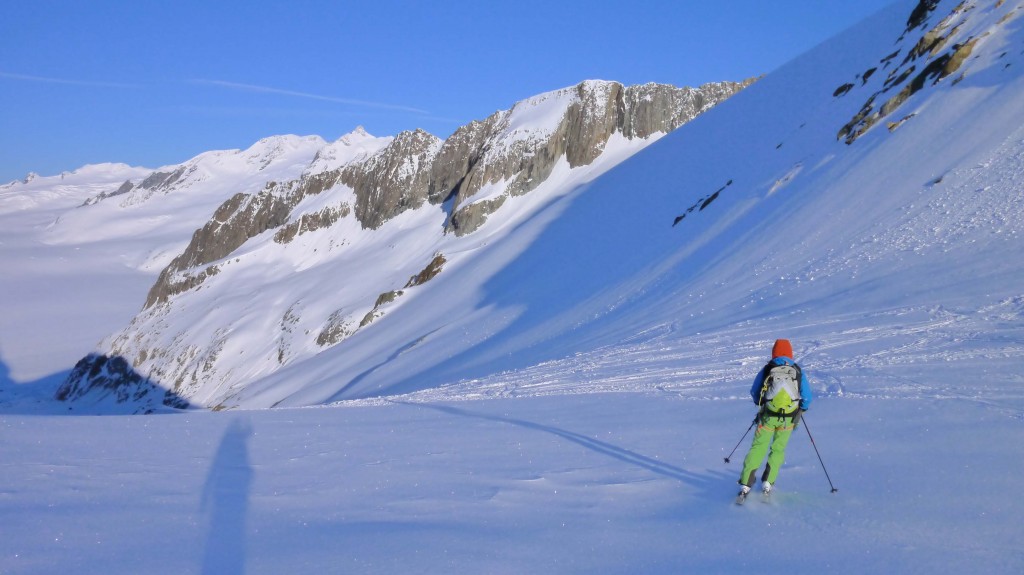 Switzerland has more ski touring options per square mile than just about any where else on earth, combine this with a great public transport network and you have a ski touring mecca.
With so many great options it can be difficult to choose where to go. If you want lift assisted back country adventures then Zinal / Grimentz is fantastic with their new gondola making terrain more accessible than ever before. Andermatt is one of our firm favourites with the legendary Gemstock lift giving great access to lift served skiing or as a starting point for some more adventurous back country adventures.
When it comes to touring we would like to suggest three of our favourites.
Grand St Bernard Monastery
The area round the Grand St Bernard Monastery is a perfect area if you are new to ski touring and want a first overnight experience, it is also ideal if you would like to combine ski touring with a bit of history. There has been a Monastery on the site for 1000 years looking after travellers making the journey from Italy to Switzerland. There are many great ski touring options close to the hut, Mont Forchon being one of our favourites with fantastic views of Mont Blanc and the Grand Jorasse as well as the surrounding peaks.
Haute Route
The Haute Route is the classic high mountain itinerary joining the alpine towns of Chamonix and Zermatt. It is a special journey passing under many of the most famous peaks of the Alps, the last day descending under the North face of the Matterhorn has got to be one of the most classic days on skis there is.
The Haute Route attracts many people as a first ski tour as it is so well recognised, if this sounds like your team then we would suggest at least one training day to make sure you have skills ready for this challenging undertaking. Our experience has found that if you can structure your trip to allow for a midweek departure from Chamonix then hut reservations are easier to obtain and the route will be much quieter. Leaving on a Tuesday seems to work really well.
Albula
The classic ski traverse from St Moritz to Davos takes in some wonderful peaks, passes and huts. The area is less known than many of the classic Swiss high level routes so it is often quieter than many of its more famous neighbours on our last visit to the magical area we had the huts almost entirely to ourselves and skied untracked snow on every day.
Bernese Oberland
The Bernese Oberland is the only place in the Alps that you feel like you are in the Himalaya! Huge glaciers, towering peaks and superb huts make this a must on anyone ski touring resume. Being so high the Oberland lends itself to late season skiing with lift access to an incredible 3600m we can tour right into May.