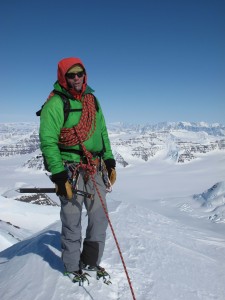 The Mountain Adventure Company is run by British Mountain Guide Bruce Goodlad.
We offer a full range of adventures year-round, including, , summer alpinism and rock climbing. In the winter months, ice climbing, off piste skiing, ski mountaineering and ski touring as well as trips further afield. We cater for all levels, from those taking their first steps in the mountains to those looking for a more challenging experience, and pride ourselves in a personal service that can be tailored directly to your needs and aspirations.
Being based in Chamonix, at the foot of the Mont Blanc massif and the heart of world Alpinism, we have some of the best locations for climbing, mountaineering, ski touring and off piste skiing in Europe on our door step and being centrally located enables us to access any of the major alpine centers within a couple of hours drive.
This, combined with easy international access by low cost airline to Geneva airport, and the one-hour transfer makes it a great place to begin any mountain adventure.
In addition to our Alpine services we also provide trips to the Elbrus Massif. Working with our Russian partners we offer all inclusive mountaineering trips to climb Elbrus, the roof of Europe and this stunning region. This winter we are offering a fully guided trip ski touring in the Caucuses if you are interested have a look here.
The thing that makes us different from others is our flexible approach to the mountains and our belief in small groups. The weather and conditions may not always be ideal where we meet so our mountain guides will use their knowledge and experience to travel to where the conditions are best. We strongly believe that by keeping group sizes small you can achieve much more with your time. We will not ask you to join a group of people of disparate abilities as this so often leads to disappointment.
Don't worry about the level of your experience in the mountains, as we will tailor your trip to meet your aspirations. So have a look around and see what's on offer. If there is nothing that takes your fancy please get in touch and we will create an adventure for you