South Georgia Island at the edge of the world
4thSeptember – 9th October 2023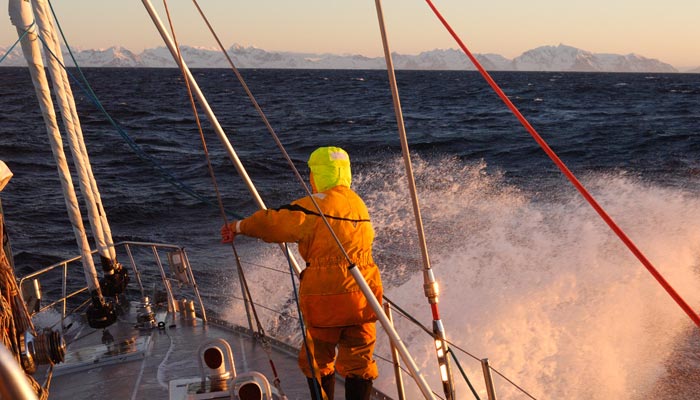 Arriving South Georgia – All photos Jim Blyth Collection.
The sub-Antarctic island of South Georgia is one of the most remote destinations for high latitude aficionados. 1000 nautical miles due east of Cape Horn, it sits astride the Antarctic Convergence where the cool waters of the South Atlantic meet the frigid seas of the south. This geographical coincidence gives rise to an extremely abundant marine wildlife – penguins, seals, whales and many species of sea birds including the Great Wandering Albatross reproduce on the island. Plate tectonics have created a rugged spine of alpine mountains up to 2900 meters and many of the glaciers discharge ice directly into the sea. Although 75% of the 100 mile long island is covered by permanent snow and ice in summer, the shoreline and verges are green with tussock grasses, moss and bog.
Trip Overview
 The cunning plan is to fly to Stanley in the Falkland Islands where we will join our boat for the next 5 weeks. We will then set sail for South Georgia the trip should take about 4 -5 days we will then have 3 weeks or more to explore this incredible landscape. There will opportunities to visit many of South Georgia's historic sites, enjoy its unique wildlife and ski and climb as much as the weather and conditions allow. Leaving enough time to return to Stanley for our international flight the return will take about 6 days as much of the sailing will be into the wind.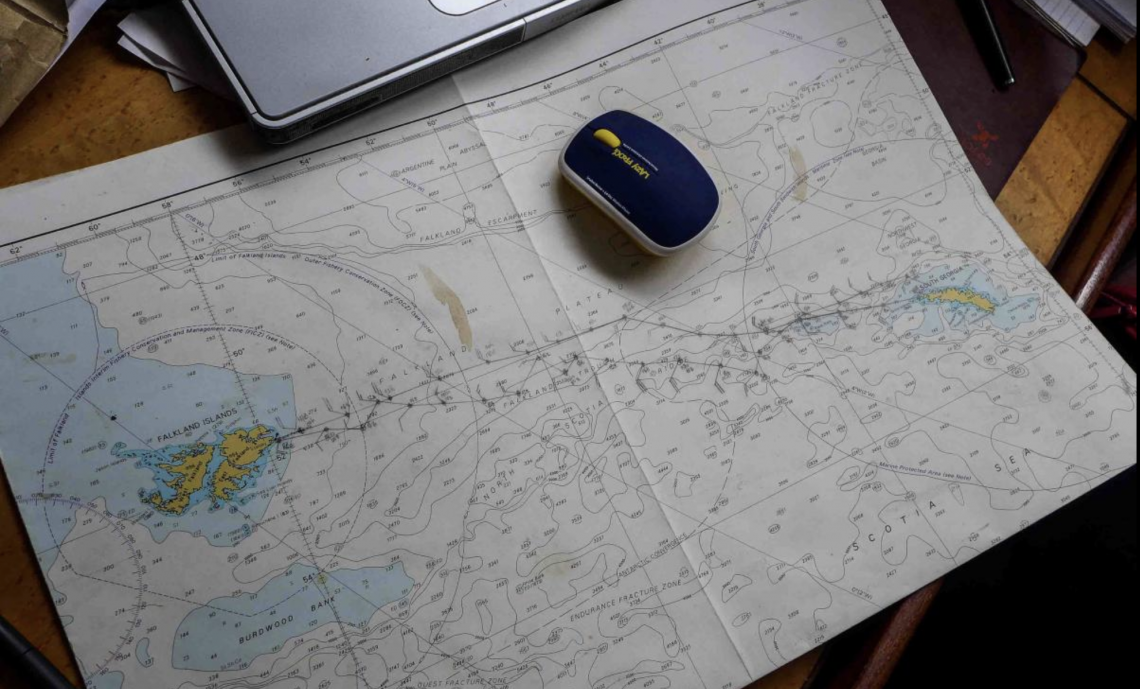 Style of trip
The trip is 'expedition style' with everyone working together making decisions and choosing objectives that suit everyone on the trip. While sailing the boat everyone can contribute at a level they are comfortable with then we all need to take our share of looking after the galley, clearing up, cooking etc. We will have 3 professional crew on the boat so there are no concerns about prior sailing experience.
The Boat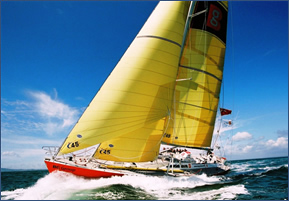 The boat we have chosen to work with is POD Orange.
Pod Orange is one of 13 Challenge 67, racing boat built in England in 1996 (plans David Thomas). He attended the renowned Global Challenge 96/97 (Race around the world, upside down (against the wind), and crewed with stops).
Perfectly adapted to the polar regions, our yacht offers all the safety and comfort required for expeditions and cruises in the Southern regions. It has a high autonomy and high capacity (9 people in addition to the crew).
The sleeping cabin is a double / single bed layered and are very comfortable at sea.  Our vessel has two bathrooms and two toilets, easy to use. As for water, our water maker keeps us in complete autonomy. Everyone can even take a hot shower every day!
Brice the skipper and the boat have made 5 previous trips to South Georgia and have worked with many guides so are very comfortable with needs to a ski and sail expedition.
http://www.voile-australe.com/en/podorange-bateau.php
Getting you and your kit to the Falklands
There are two route to the Falklands either using the RAF from Brise Norton (Thursday) or via Santiago and Punta Arenas in Chile (every Saturday) The recommendation from the team on the boat is to go via Santiago as there are only 20 civilian seats on each RAF plane and you can be bumped or the plane cancelled if the seats or the aircraft are needed for other military deployments. The recommendation is to be in Santiago a day or so early to allow for any baggage issues etc. Booking should be made through !!! agency in Stanley that way if there are any delays in the flight (Apparently it can occasionally be delayed by wind in Stanley) they can sort any connections etc. We will advise on specific flights once we have spoken to them.
The boat also suggested shipping our kit to a colleague in Stanley that way we don't risk skis etc. going missing in transit through South America, as there is only one flight a week, we couldn't wait for kit to catch up. We can just fly with it on the way home. Depending on flights times and connections we may need a night in Santiago on the way home.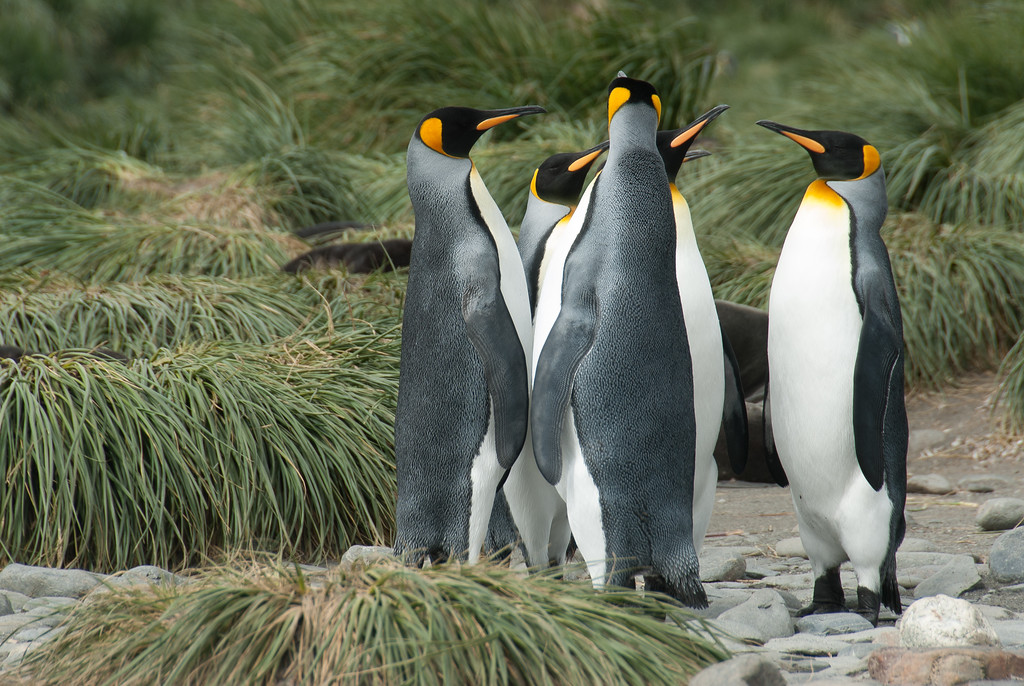 Team
The trip will have 2 guides Bruce Goodlad and Mark Charlton both are incredibly experienced guides and have worked in Antarctica and the Arctic on many occasions.
There will be a skipper and 3 crew on POD Orange to run the ship and look after us.
We have a maximum of 6 spaces for guests onboard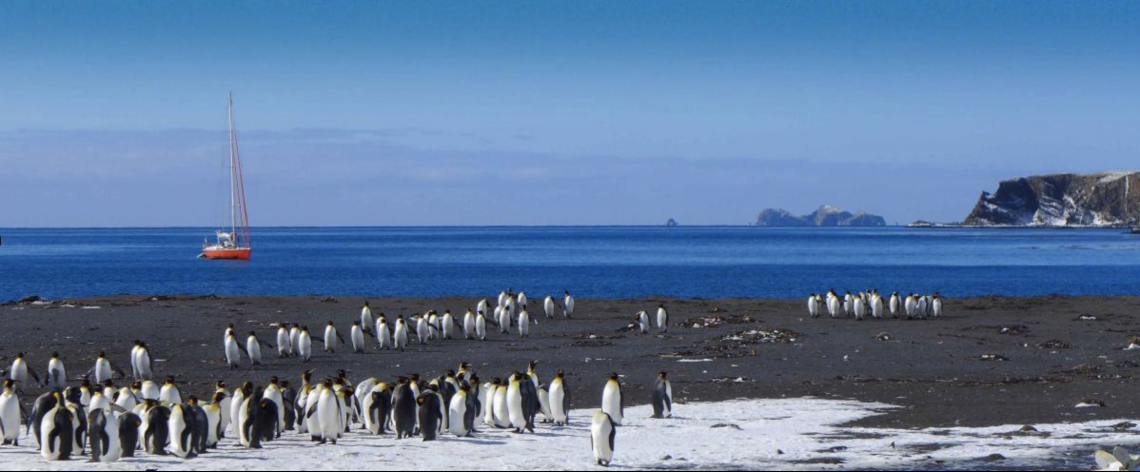 Skiing
The ski and mountaineering opportunities in South Georgia are endless with spectacular glaciers dropping into the sea and peaks rising to over 2000m we will cut our cloth to fit ambition, weather and conditions.
The team on the boat suggested that from their experience the best trips result from day trips from the boat, this allows us to maximise good weather. Their recommendation was that those who choose to drag sledges and camp ashore spend a lot of time doing this and not much time actually skiing and enjoying the place. This can be a team discussion, but we need a different type of permit if we intend to camp ashore.
There is no intention or recreating the Shackleton crossing as the glacier have changing in recent years making this a serious proposition and one without any real skiing.
The beauty of this style of trip is looking at the maps, looking at the mountains and saying let's go and climb that then off we go. On days when the weather or the legs don't feel like skiing there will plenty of opportunity to enjoy the wildlife and history of this incredible island.
Maps
The best Maps we have found so far are:
British Antarctic Survey – South Georgia 1:200,00 with the Shackleton crossing at 1:40,000 Sheets 12a and 12b.
That's a great overview and helps orientate yourself. The the following are in more detail of specific areas round Stromness and Cumberland bays.
British Antarctic Survey Thatcher Peninsula Sheet 4a and 4b
British Antarctic Survey Busen Region Sheets 5a and 5b
South Georgia Explorer is also a basic map but highlights the areas of interest for history and wildlife.
Equipment
 Sailing – It can be pretty cold and wet sailing in the southern ocean so we suggest everyone brings their own sailing waterproofs, these are generally much more robust than ski waterproofs and designed for warmth and protection rather than flexibility. There are lots of brands on the market, but we would suggest something designed for ocean sailing rather than coastal day sailing. If you get an idea of size, then there are always good deals to be found on the internet. This type of thing is ideal – Musto HPX, there is some good info here. If you look for previous layers models they all work well and it's not like ski kit where design suddenly means your kit is super light or flexible. You need to make sure you can layer cloths underneath personally I found a one piece base layer is ideal then you may want to consider something insulated as well.
Multiple layers of ski kit will work well.
On your hands its worth trying to find insulated waterproof fisherman's gloves, the type of thing designed for handling dry ice, While too sweaty for skiing in they work well when sailing.
You will also need your own wellingtons we suggest an insulated pair as sitting on a boat is pretty inactive and you can get cold feet. Muckboot make some great ones.
These are also great for visits ashore.
Skiing – The equipment you use in the Alps is ideal for use on South Georgia so you will not need to bring anything specialist with you other than standard kit for glacial ski touring plus a warm down jacket in case we have to wait on the shore for a pick up.
We will supply a full kit list nearer the time.
General – South Georgia is a photographers dream so it may be time to upgrade your camera. There is charging equipment on the boat to charge batteries lap tops etc.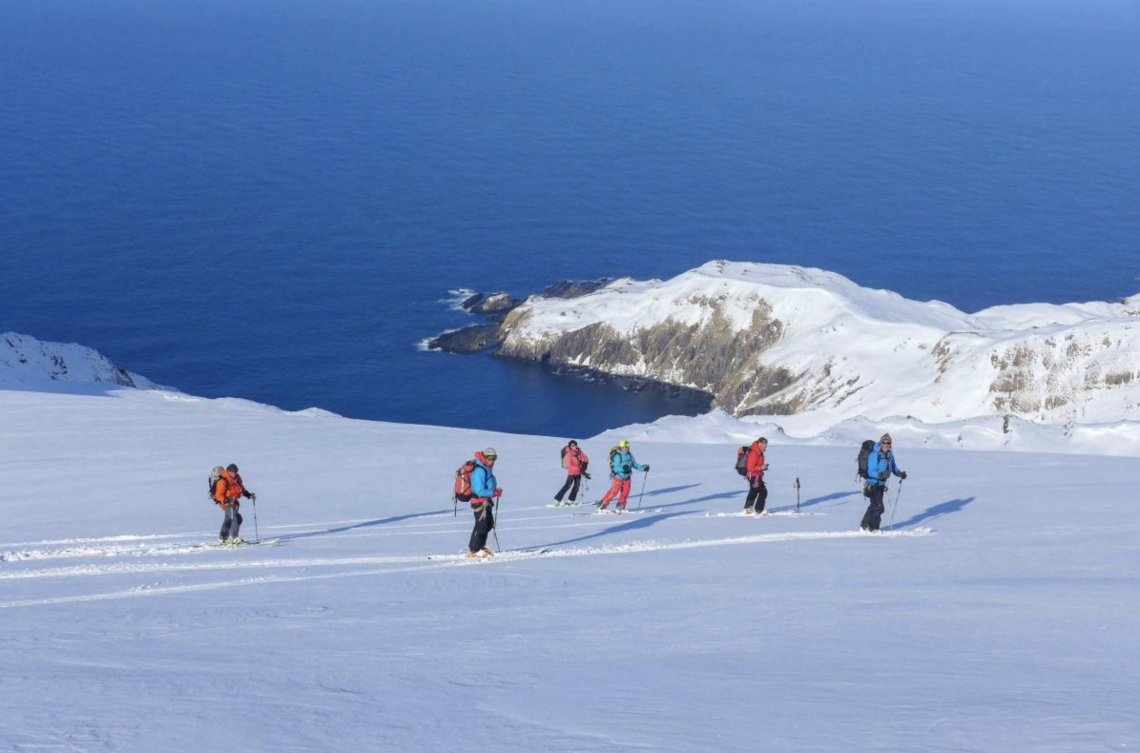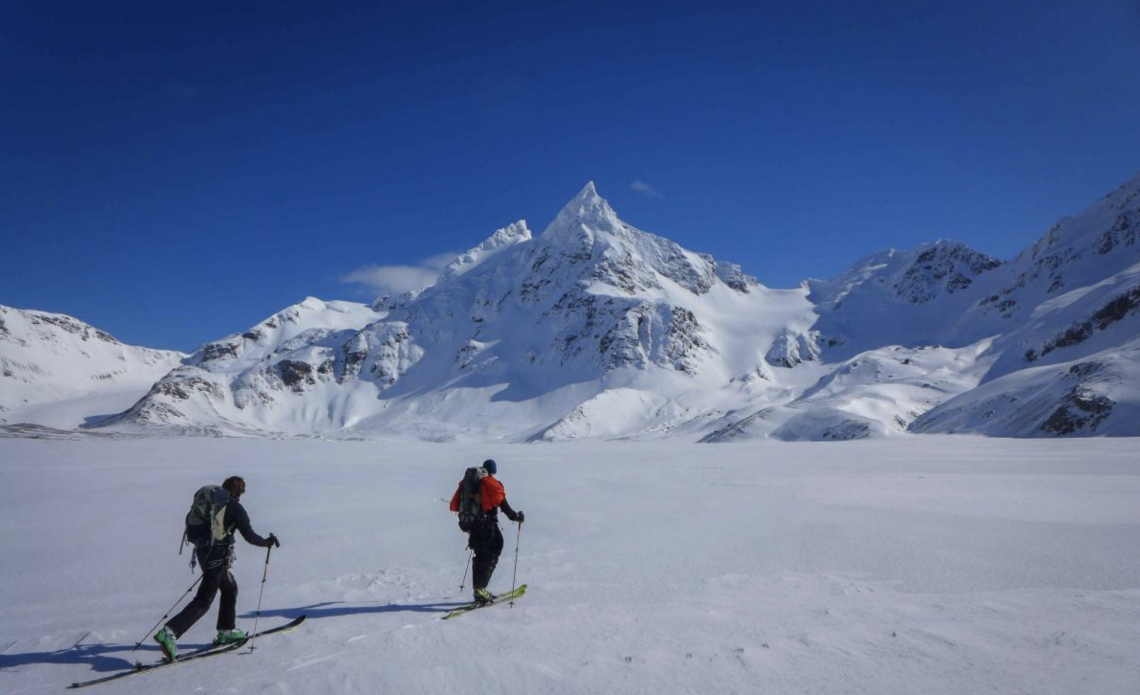 Cost £21,000
There is no cheap way to charter a yacht of this type for 35 days but we strongly believe this is the best yacht for the expedition.
Included
Yacht Charter and all associated fees.
Food, beer and wine on the boat.
All guide fees and expenses.
South Georgia expedition permit.
Not Included
Flights
Insurance
Accommodation in Santiago
Airport transfers
Satellite phone use
Waterproofs on the boat.
 Payments
 To secure the boat charter we need a deposit of £5000 per person then the balance 3 month before the trip.
We strongly recommend cancelation insurance as all payments are non refundable.
Dates
The dates advertised are suggested by the boat to give the best ski conditions and weather apparently the weather becomes windier and more volatile as the season moves from late spring into summer.
Useful links
South Georgia Government – www.gov.gs
Falklands Tourist Info – www.falklandislands.com
South Georgia Trip Reports – http://www.gov.gs/docsarchive/visitors/#tab-3
http://www.gov.gs/docsarchive/Visitors/Expeditions/2014%20Blyth-Podorange%20Report.pdf
https://www.facebook.com/SouthGeorgiaHeritageTrust/