Narvik Northern lights and ski touring  15-22 March 2019 £1999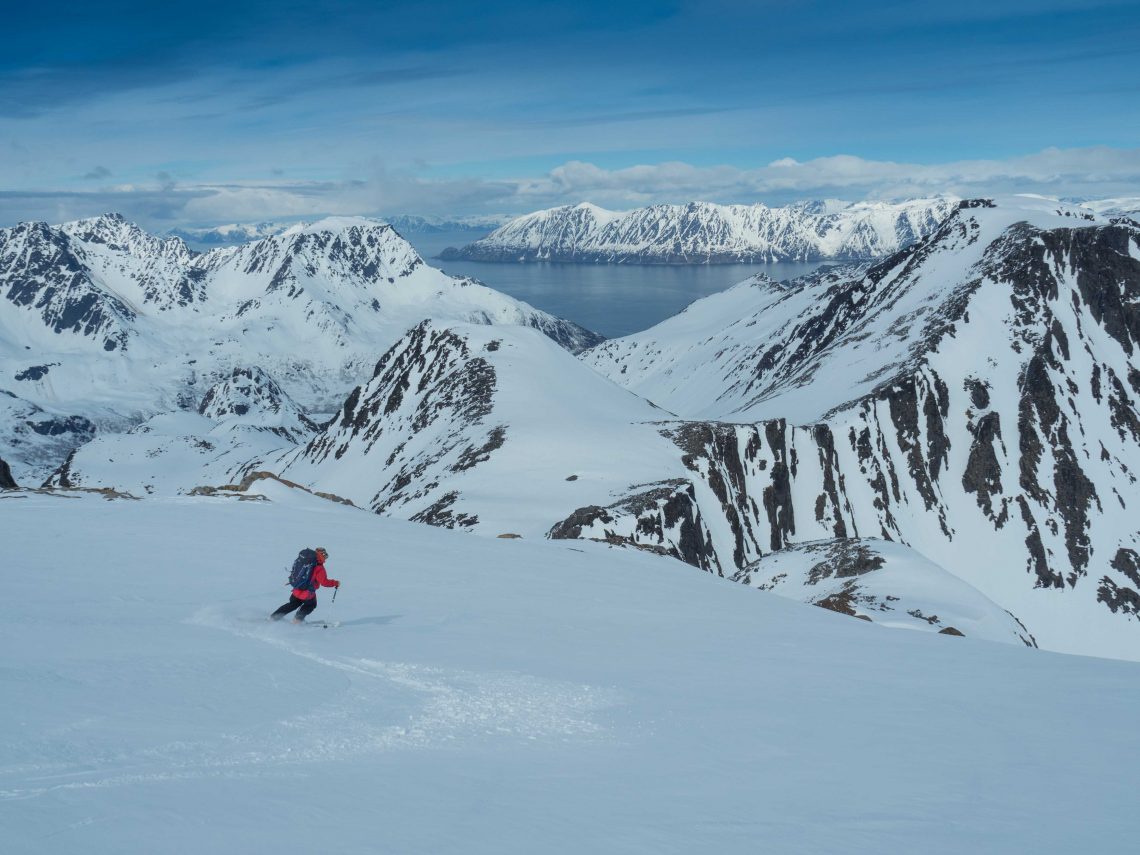 To some Narvik is famous for its World War 2 history where battles were fought to secure the supply of iron ore coming from Kiruna, to others it is home to the biggest vertical ski area in Scandinavia with incredible touring opportunities. To us it is the perfect combination of sea to summit skiing with one of the shortest distances from sea to high alpine terrain in Norway. Add the possibility of some amazing displays of the Northern lights and you are in for an unforgettable ski experience.
Our base for the week is the very comfortable Trollviken Lodge, an old fish farm renovated to a high standard to look after skiers. The lodge is Fjord side with its own sauna on and overlooks Narvik.
The lodge is situated 30 minutes from Harstad / Narvik airport so access, maximising our skiing time.
Sample program
Day 1
Arrival day.  Flying to Evenes airport (also called Harstad / Narvik Airport). We pick you up at the airport and drive to Trollviken in half an hour.
Day 2
Your guides drive the van to our "home mountain" Spanstind. I has a great fjord view from the summit and offers many opportunities skiing down. Spanstind is 1,460 meters above sea level but since we start at about 400 meters above sea level it will be a suitable starting day with 1000 vertical meters. We'll be home in time for a sauna before dinner.
Day 3
We drive a little further out towards Tjeldsundet and climb up Strandtinden. Wonderful views out to the Vest Fjord – America's Next! – And a long North facing side that often keeps really good cold snow.
Day 4
The aim of the day is a little more sharp. Today we go on Rombackstötta across the fjord. It's a little longer day and it a great feeling on top of the "Narvik Matterhorn". The skiing down is often fine powder at this time of the year. If snow conditions are stable, we may decide to go a little steeper down Rombaksrännorna on the north face.
Day 5
We climb and ski a favourite in Gratangen. We start in the nice village Foldvik and climb up Nonsfjellet.
Day 6
Novafjellet is a long day but we are rewarded with views in all directions! Looking north towards Andröja, Rolla and Senja. NV we see the vast sea and Harstad. In the West we see the Lofoten Islands and Vestervålen.
Day 7
Today we drive to the best Nordic ski mountain with lift access – Narvikfjellet. We use the lift and climbing skins to get up the mountain so you get 3000 vertical meters of downhill skiing in wonderful terrain.
Day 8
Transfer to airport for return flight.
Included
Full Board accommodation.
Airport transfers and daily transport.
Guiding and Guides expenses.
This trip is run in association with the SCGB and can be booked here