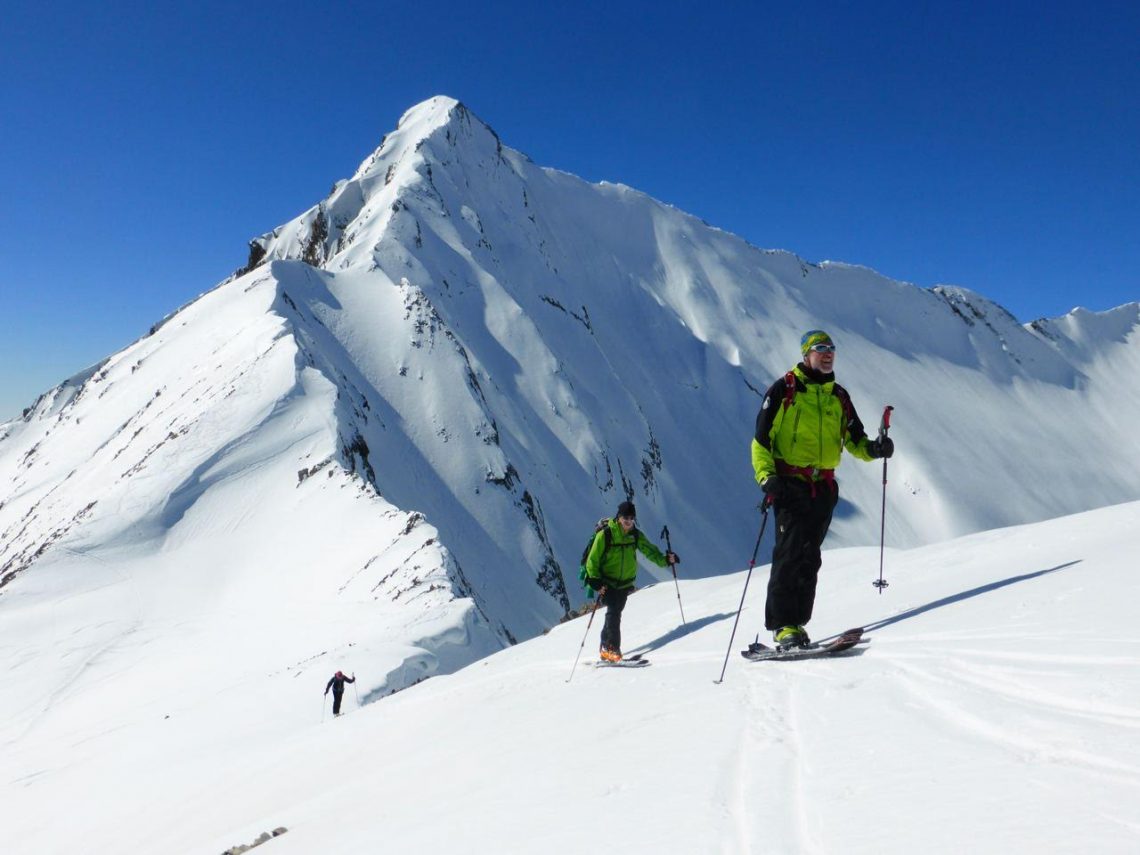 Dates 16-24 February 2020 Cost £1875 TRIP FULL
The Caucuses contain all the highest mountains in Europe with 7 peaks over 5000m they stretch from the Black to the Caspian Sea, they contain a lot of skiable terrain and a lifetime of ski touring. Bruce has teamed up with Russian ski touring legend Alexey Shustrov to visit the south side of the Caucuses chain with a ski touring trip to Georgia.
Bruce has made a number of trips to the North side of the chain and has looked down into Georgia so seemed like a good time to go and visit. One of the many great things about Georgia is that currently most people coming from Europe do not need a Visa to visit and there are relatively inexpensive flights to the capital Tbilisi.
Georgia is a fascinating country being sandwiched at a meeting of cultures and topography, it is one of the oldest Christian countries in the world with many fascinating monasteries that we will get the opportunity to visit during our adventure. Famed for its wine, brandy and food we will be well looked after.
The plan is to fly to Tbilisi then travel to the Gudauri and Gergeti valleys, we will stay in small hotels and day tour every day, the terrain is non-glacial so we will be able to ski with light packs.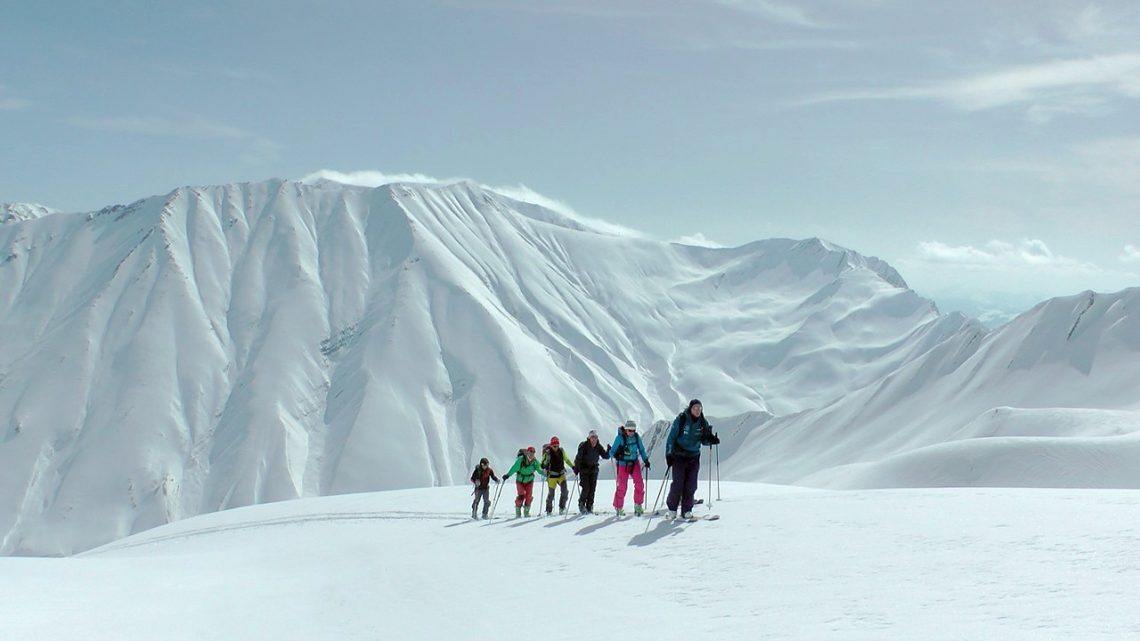 Day 0 15 Feb Leave home – most of the flights appear to leave Europe late in the evening so please check arrival date.
Day 1. 16 Feb Arrival Tbilisi airport most flights seem to arrive in the early morning. Transfer 165 km (2 hours) to Gudauri ski station. Accommodation in mini-hotel (1990 m). Nice view to the mountains. Lunch and relax in the hotel. If we are not too tired from travel, we have the opportunity to make a short Ski-tour to peak Kudebi (2950 m). Night in Gudauri.
Day 2. 17 Feb Transfer 20 km to Kvemo Mleta village (1500 m), ski-tour from there to Lomisa Monastery (2200 m) and then to Lomisi peak (2400 m). The Monastery, the pass and the peak located nearby, bear a name of a bull. Following the legend, the Bull Loma helped to Mtiulians to find the way home from Persian captivity. The church, which makes a part of the Monastery, appears on place where the bull died. It dates the 9th century. Night in Gudauri.
Day 3. 18 Feb Ski-tour to Sadzele peak (3250 m), possible ski-lift using, descent to Cross (Jvary) pass (2380 m) or Kobi village, Bidara or Trusso gorge. Option to ski down 1300m, a massive descent if the snow allows. Transfer 30km to Gergeti village (1850 m) with beautiful view to ancient volcano Mt.Kazbek. The region is almost unknown for skiers, but with it has a great ski-tour potential! Night in Gergeti.
Day 4. 19 Feb Short transfer (8 km) to Sioni village. The "Sioni" appellation is largely is frequented for villages and small cities in Georgia. Here, we meet an ancient church of 9th century and some buildings dated of the XVII-XVIII. Ski tour to massif of Artkhmo peak 3143m, along the North ridge. Night in Gergeti.
Day 5. 20 Feb Ski tour to massif of Mt. Kazbek 5033m (Don't worry not to the top), along the East side, to Tkharsheti 3417m or Arsha 3190m peaks. Kazbek is an ancient dormant stratovolcano, one of the 7 peaks higher 5000m in Main Caucasus. Its summit is divided into two countries: Georgia and Russia. There are the ways from both sides, but the Georgia way from South is the only one good for ski. Night in Gergeti.
Day 6. 21 Feb Transfer direction to Djuta village 15km. Ski-tour to Juta peak 3300m. If the route is blocked with snow, so transfer to Sioni village. Ski tour to Kobi peak 3050 m. The slopes are wide open without trees. Night in Gergeti.
Day 7. 22 FebTransfer to Gudaury via Sioni villages 1800m with ski tour over Kabardjina pass 2400m (short) or Narvani pass 2800m. From the both passes we have an amazing view to Kabardjina summit with its sheer cliffs covered by snow and ice. Night in Gudauri.
Day 8. 23 Feb Transfer to Tbilisi, via Ananuri Fortress, Mtskheta – old capital of Georgia, Zedazeni – one of the most ancient monastery. City visit, free time. Farewell dinner at nice Georgian restaurant. Night Tbilisi.
Day 9. 24 Feb Transfer to Tbilisi airport, flight home.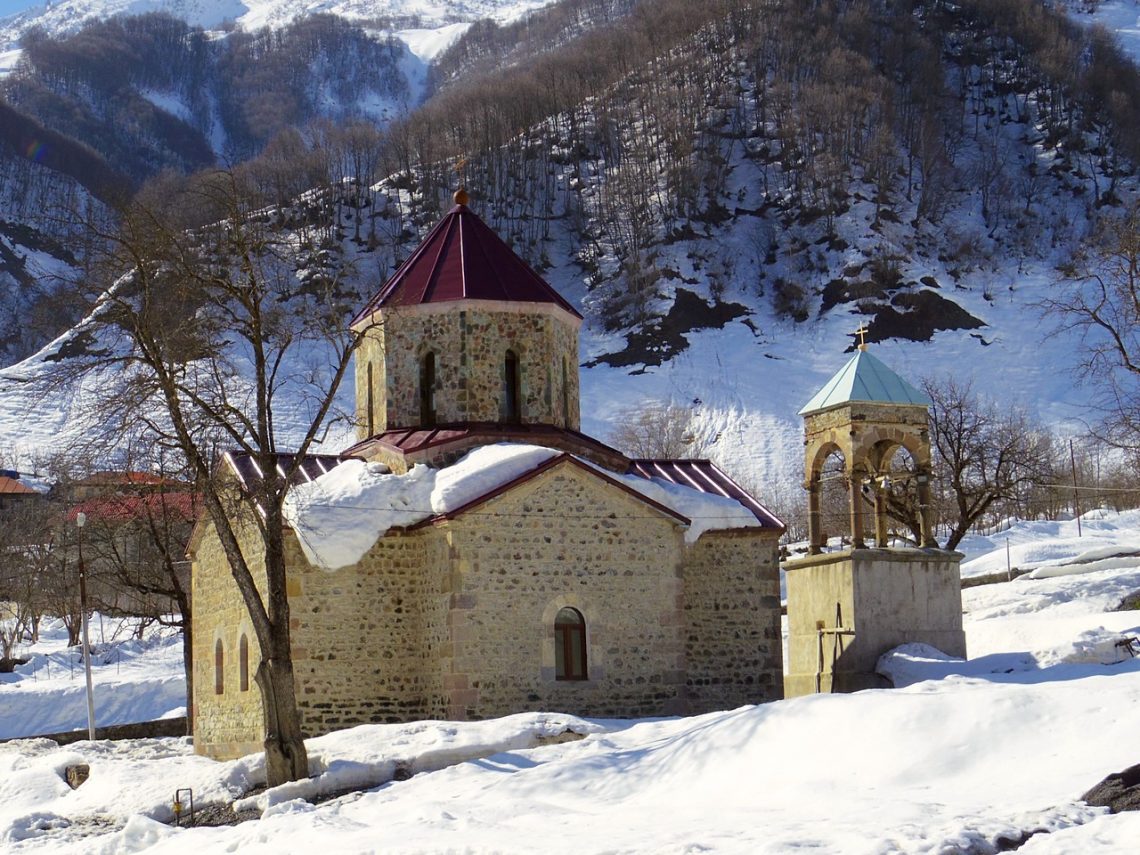 Cost £1875
The price includes:
All necessary transfers airport to airport.
Accommodation according to the program.
Full board throughout the trip including a packed lunch.
All Guide Fees, Bruce and Alexey.
Any necessary permits.
Not included:
Flights to / from Tbilisi airport
Unexpected preliminary evacuation cost
Insurance
Personal expenses, alcohol
Flights
Please note that flights arrive in the morning and your arrival date should be 16th as some flights will leave your home airport on the 15th. Please check with Bruce before booking your flight