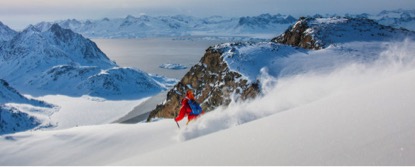 Greenland 18-27 April 2019 £4650 Trip Full
When we mention the name Greenland our thoughts immediately turn to a frozen landscape, glaciers, spectacular fjords, icebergs and ski terrain like no other.
We have teamed up with our friends Matt and Helen Spenceley who have just finished building a ski lodge in Kulusuk on Greenland's east coast to offer a weeks skiing and exploration. The team will fly from Iceland direct to Kulusuk where we will spend 5 nights at the lodge, 2 nights in a purpose built mountain hut and 2 nights further up the coast in the village of Kuummiut.
We'll search out the very best snow on some of the stunning and uniquely Greenlandic mountains of the region – glaciers running down to the ocean, alpine summits & cols, all linked by the frozen fjords.

For those looking to experience Greenland but not keen on a full-blown expedition (or camping!), this is the trip.  You'll gain an insight into the traditional Inuit way of life up here in the north whilst staying in the simple but comfortable lodge in Kulusuk and spend each day out amongst the glaciers, peaks and frozen fjords.  For part of the trip, we'll overnight in a remote wilderness hut in the heart of the stunningly wild area in which we'll be ski touring.
The cost includes snow mobile access on at least 3 days and dog sled access on another to get to the best ski terrain.
Booking
Getting to Greenland is the key to any trip and flights from Iceland to Kulusuk currently only run on a Saturday and get booked up as soon as they are released which is a year ahead of the date of travel. So while it may seem ridiculous to be planning a ski trip a year out if we don't have a team together when the flight become available then we are unlikely to be able to secure the flights and hence run the trip.
Cost £4650 – based on a team of 6.
Cost Includes
Reykjavik – Kulusuk, East Greenland return flights.
Ski carriage
Baggage transfers to lodge
5 nights of accommodation at the lodge, including breakfasts & evening meals
2 nights of accommodation in Kuummiut, including sleeping bag and mat, plus food
2 nights of accommodation at the mountain hut, including sleeping bag hire & food
1 x dog sled journey to ski tour;
3 days snowmobile tow-in support;
Boat journey to/from Kuummiut
Polar bear deterrents & sat phone
Hill food
IFMGA Guide and Guides expenses.
Not Included
Return travel Reykjavik Iceland
Accommodation in Iceland
Insurance
Airport Transfers in Iceland